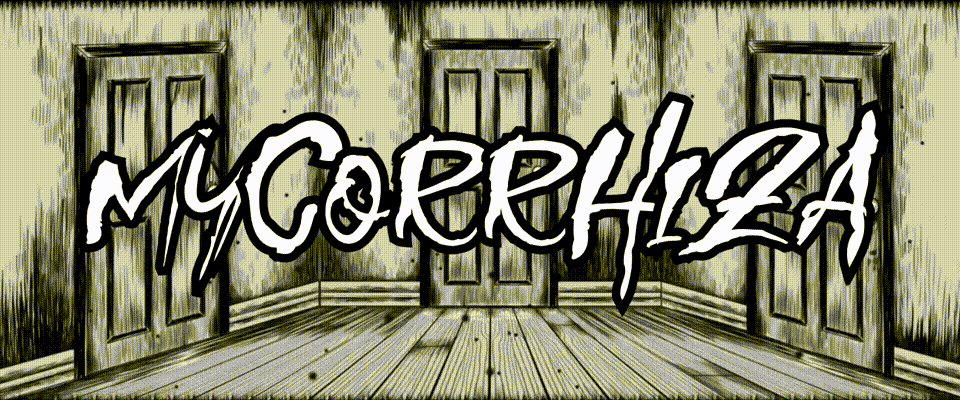 Mycorrhiza
Mycorrhiza is now fully released!
---
Mycorrhiza is now officially out!
Here I am, sitting in front of an empty devlog creation page with a lot of things to say but no idea where to start. Maybe I'll start at the very beginning.
Mycorrhiza's concept was formed about four years ago when I was binging horror manga every few evenings. Around the same time I had:
1. wanted to gather more experience as a game dev team lead instead of just an audio contractor and
2. wanted to create audio for a horror game.
So I sat down and wrote on and off on the story for Mycorrhiza (back then still named Pengembara) and finished the script after two years. And now here we are, two more years of game development later!
Before I get to the exciting headings below: We would really appreciate it if you could spread the word about the game, it would help us out a ton! Tell your friends if you've enjoyed it, tweet about it, recommend it to YouTubers and Streamers you like to watch. All of that would help us out a lot.
The game is 20% off for the launch weekend!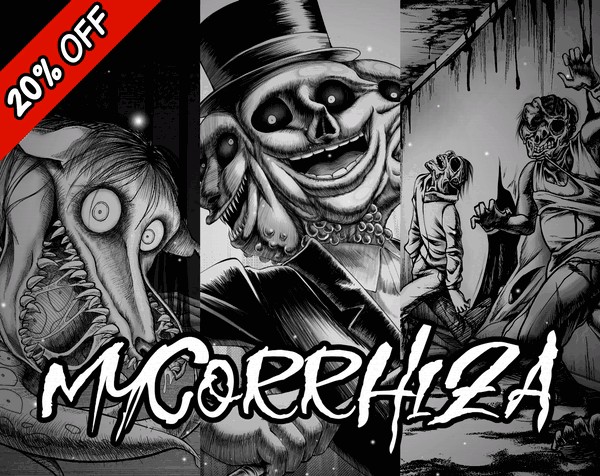 For the release weekend, the game will be available 20% off! If you'd like to donate additional funds, then you can of course put in a higher price when buying Mycorrhiza or by donating when downloading the pay what you want music album. Your monetary support could help us in many ways. We could funnel it back into Mycorrhiza by paying Steam's product submission fee, getting translations done, extending Mycorrhiza with additional content, upgrading the current content or we could reinvest it into future game projects.

Should you replay the first two doors if you've already played the demo from last year?

I would highly recommend it! A lot of things have changed over the year: The writing has been adjusted, the UI has been improved, the audio was upgraded etc. You also need to play through all the doors at least once to unlock the final part of the game. On top of that new side routes have been added to the first and second door that weren't there in the original demo!

Some of you might have also already noticed that the demo from last year was replaced with a new demo. This demo has the same content as the previous demo but features all the UI, writing and audio enhancements of the full version.
You can get the game's soundtrack for free!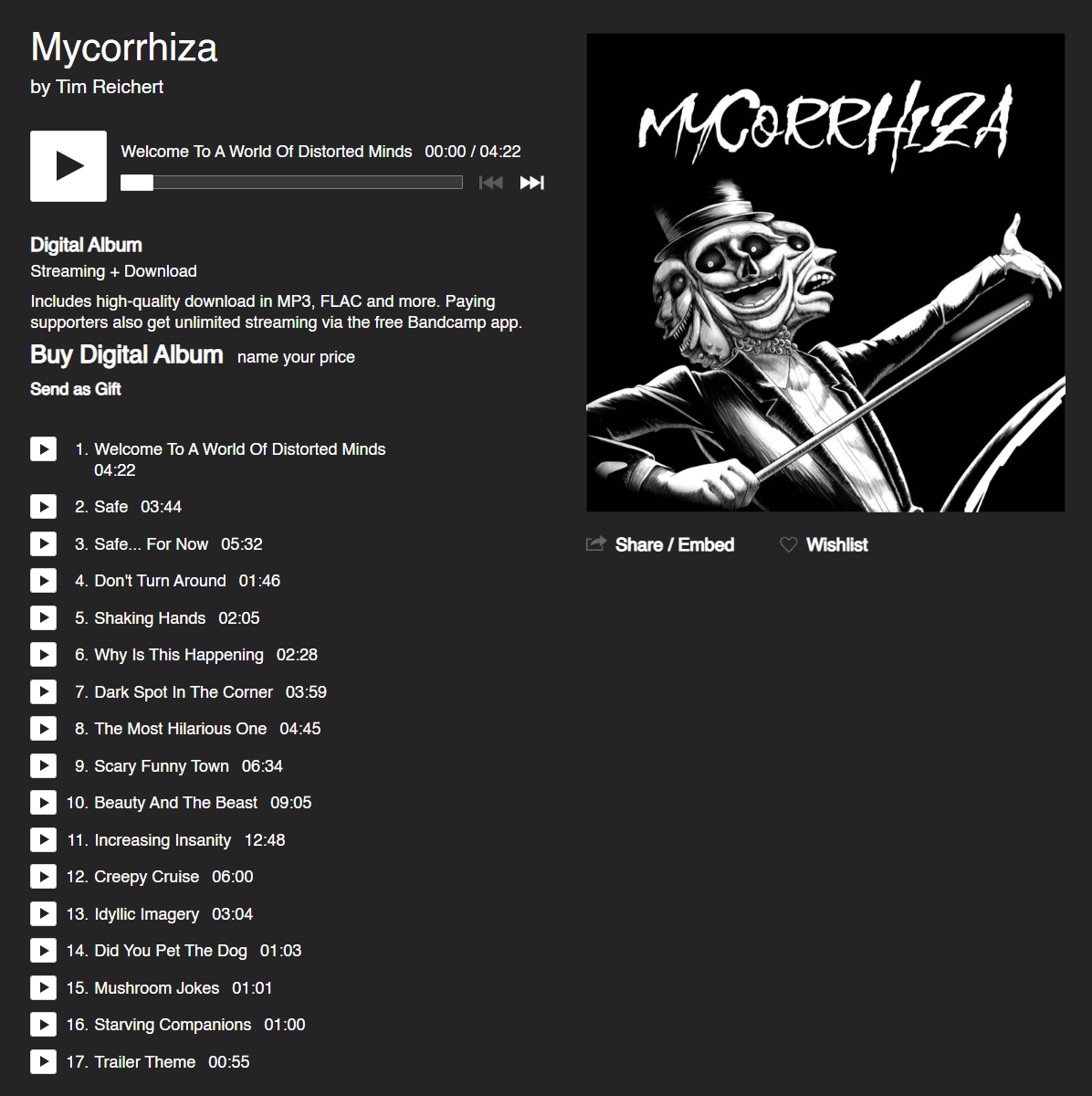 Itch doesn't let you add a soundtrack for free to a paid game page, which is why you can more easily get it over on bandcamp! The soundtrack consists of 17 tracks in total. Different variations of one track are summed up in one audio file. This is why "Increasing Insanity", for example, with its eight different variations, is over 12 minutes long. In total the soundtrack is about 1 hour and 10 minutes long. Let us know which your favorite tracks are!
Note that Bandcamp limits the amount of free downloads artists get to give away per month (200 free downloads). If this quote is used up you can download the soundtrack from Mediafire.
What does the future look like?
For now we're looking forward to hearing what you think of the game! Send us your let's plays, streams, fanart, fansongs, mods, everything! We want to see them all! You can either post them in the comments on the game page, tweet them at us on Twitter (@MycorrhizaVN) if you'd like us to share them with the rest of the Mycorrhiza Twitter community or send them to me personally to contact[at]tim-reichert[dot]com.
We will keep tweeting and devlogging about fun facts and interesting Mycorrhiza tidbids. There's also a secret mode hidden in the game. You can access it through pure luck or by using a specific trick. We will be tweeting out hints regarding that trick in the future!
As for the future of the game itself, as the above text implied: This is partly in your hands. We would love to explore Mycorrhiza's world further if we can get the funding necessary and would love to see it on other platforms.
I want to thank everyone who has been part of the journey so far!
Though this journey is far from over, as implied above. But nevertheless this couldn't have become the kind of game it became without these awesome people (in no particular order):

Alfred, the programming wizard who painstakingly implemented the game's dynamic music system, in-engine animations, UI and accessibility options. I would have been quite lost without him and we wouldn't have been able to realize our ideal vision of the game.
Sam for editing most of the game script and giving me really valuable writing tips. The game's writing would have been much more awkward without him.
Wolf for proofreading and editing the intro to make the beginning of the game stronger.
Shiranui for editing the extra texts and makin them way more genuine and fun to read.
Teriyaki for laying down the foundation for the game's art direction. It really helped finding the right focus.
BlackWingBinLan creating awesome horror manga art, including sprites, the CGs, and the intro animation. The game couldn't have become such a huge homage to horror manga if it weren't for BlackWing.
Missyozart for providing the very first piece of art for the game ever: The title screen. You know how important the three doors are as a symbol for this game.
The testers bleep, Deepest Lore, Kevin Gems, Vsevolod Metelskyi, Bluerosee, Sarah Sotelo and Terrororose for making sure that the game actually works and finding all the errors that we were too tunnel-visioned to see. The game wouldn't be as polished without them.
Deer Dream Studios for the Easter egg trade (some of our assets appear in Cooking Companions as an easter egg and some of their assets appear in Mycorrhiza).

Daniel Westfal, Droakir, Arks and everyone who contributed on Unsplash for providing free to use assets!
Everyone who provided feedback after playing the demos. We received over 50 feedback form submissions and really appreciated you sharing your opinions and tips with us!
And of course everyone who helped bringing the game to people's attention. This equally includes people personally telling their friends about it, as well as content creators making videos of or streaming our games and journalists publishing articles about it on their sites.
Some final links
I hope you'll have fun with the game and we're looking forward to hearing what you think! Let me leave you with a few final links:
- The game's FAQ:
https://fulminisictus.itch.io/mycorrhiza/devlog/395833/mycorrhiza-faq
- Our feedback form:
https://forms.gle/fbbG73MdBQjwKmY68
- Our Twitter page:
https://twitter.com/MycorrhizaVN
- The game's press kit:
https://drive.google.com/drive/folders/1N3KcHEl6vcLkFsoRn0M9eEIUjUgSvSdl?usp=sha...